Our events are held on the third Sunday of the month 1-4pm at the Victoria Point Bowls and Recreation Club (3 Poinciana Ave, Victoria Point).
Events typically include Blackboard Performers & a booked feature act, and occasionally a workshop. We hold an annual Christmas Bash in December.
Folk Redlands has recommenced our regular monthly events post COVID. Check below to see the bookings for the remainder of 2022 including artist Bio's and photos.
Sunday October 16 Diddly Squat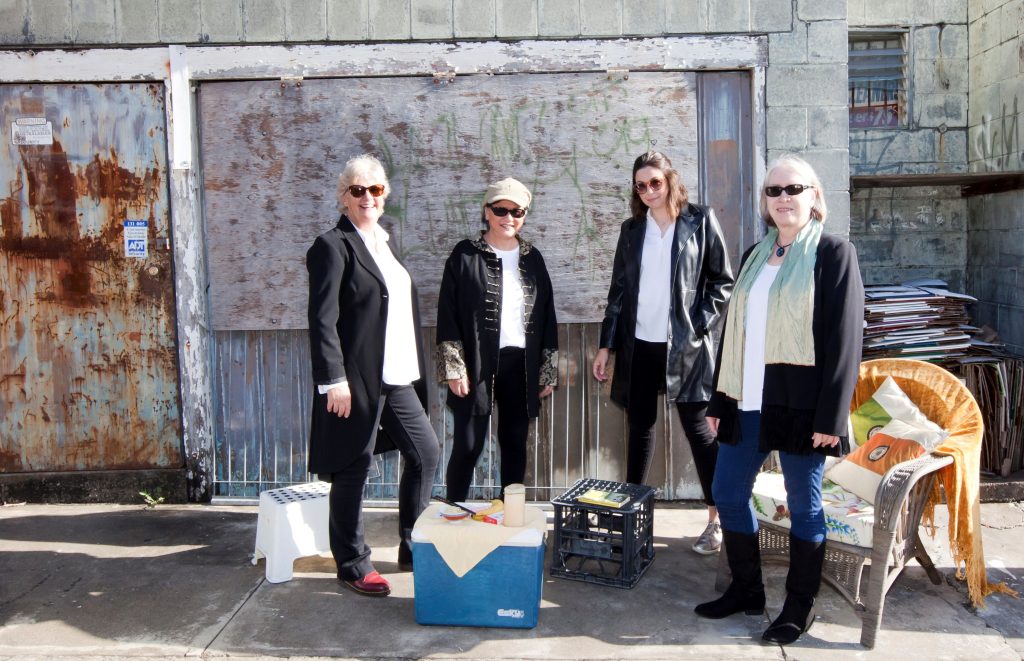 Amazing experiences come from knowing "diddly squat" and doing it anyway.
Diddly Squat are an "all-girl" band of friends who got together in 2009 "to have fun &
make some noise".
Despite knowing "diddly squat" about music, they decided to have a go anyway, and
have been spreading the joy ever since.
Their repertoire includes an eclectic mix of "folk-rock" including old favourites from
the 1960's – 1990's with a sprinkling of originals, and lashings of fun.
Diddly Squat were featured as finalists on the ABC EXHUMED TV series 2013. They
have enjoyed performances at QPAC Green Jam, Redfest, Peaks to Points Festivals,
LGBTIQ Over 50's Expos, IndigiDayOut, Karuna & Wynnum Markets, and on ABC
Radio.
Their single "All So Ordinary", penned by late band member Kathy Ridgway was
released in 2017.
Band Members:
Merrilyn Bowers drums
Chris Hall vocals, bass guitar
Ann Leung vocals, guitar
Sophie Stevanov vocals and other stuff
Rousing harmonies and infectious camaraderie
Email: diddly@diddlysquatband.com
Phone: Merrilyn: 0418 734 595 / Ann 0412 239 700
www.diddlysquatband.com
What Others Say
"took my breath away with those harmonies"
"fun, high energy, and great musicality…YAY, you girls rock!"
Sunday November 20 Scarlett Road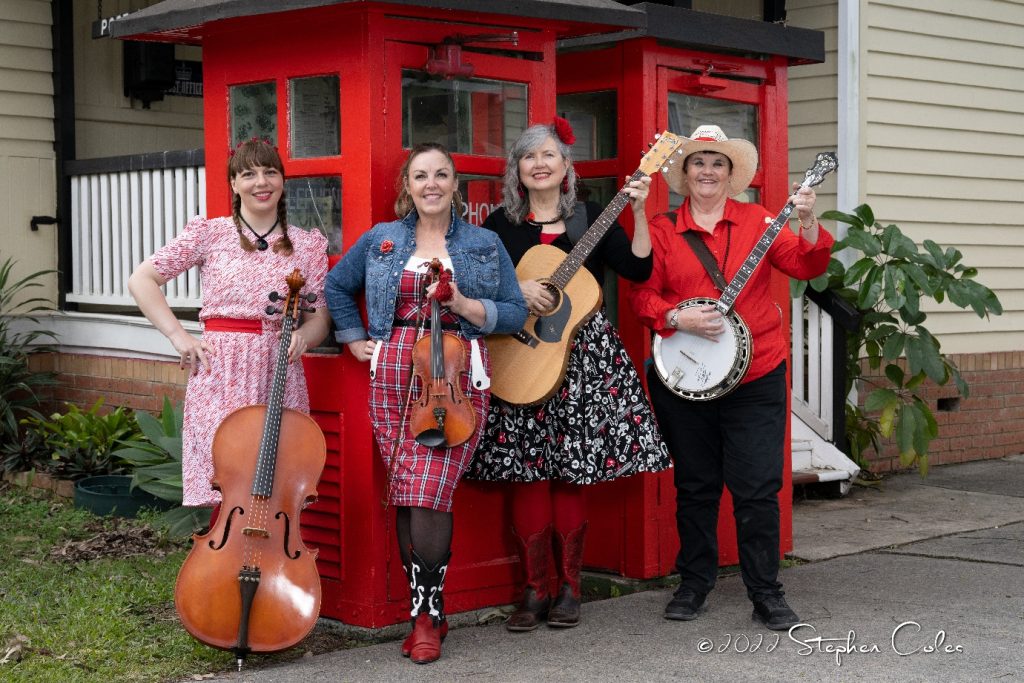 Scarlett Road are a four piece female band that performs a dynamic variety of celtic-bluegrass originals and covers, seasoned with a dash of old-timey, alt country folk and instrumental tunes. Featuring Banjo, Cello, Fiddle, Guitar plus warm honey soaked vocal harmonies, Brenda, Helen, Lisa & Melinda bring songs of joy and sorrow together in harmony and captivate audiences with their charismatic stage presence.
Originating from different musical backgrounds each member brings distinct elements to a completely original style. All members of Scarlett Road bring a broad range of influences from other musical acts they have performed with including, Alt-Country, Bluegrass, Celtic, Folk, Irish, Jazz, Rockabilly and 80's/90's tunes, which you can hear in their wide variety of songs. Diverse instrumentalists and vocalists, they draw from an eclectic suitcase of influences to create original music and re-tell stories of yesteryear.
Scarlett Road features Melinda Coles (Fiddle/Accordian), Brenda Kelly (Guitar/Uke), Lisa Mapson (Cello/Guitar) & Helen Matheson (Banjo). Bringing together accomplished story tellers, talented instrumentalists and sweet vocals the gals from Scarlett Road have created a vibrant show which is fun, yet steeped in traditional musical influences with a contemporary twist.
Sunday December 11 Folk Redlands Christmas Bash
The Folk Redlands annual concert/party. Date confirmed, content to be confirmed.