Our events are held on the third Sunday of the month 1-4pm at the Victoria Point Bowls and Recreation Club (3 Poinciana Ave, Victoria Point).
Events typically include Blackboard Performers & a booked feature act, and occasionally a workshop. We hold an annual Christmas Bash in December.
Folk Redlands has recommenced our regular monthly events post COVID. Check below to see the bookings for the remainder of 2022 including artist Bio's and photos.
Sunday December 4 Folk Redlands Christmas Bash
It's that time of year again when from 12 Midday to 6pm Folk Redlands brings you a fun packed afternoon of entertainment featuring:
Blackboard (Open Mike) including the Folk Redlands Club Band
Maree Reedman
Fozzie
Evan Mathieson
David Jacobs
The Red Hill Boys
Steve Sparrow
Mama Juju & the Jam Tarts (headline act)

$3 per member and $5 non-member. Victoria Point Bowls and Recreation Club, 3 Poinciana Avenue.

We are proud to keep up our tradition of bringing to the Redlands The Folk Redlands Xmas Bash. When we put on a full afternoon's entertainment with an exciting blackboard with more than 8 performances from artists from around South East Queensland.

We will have a Christmas raffle as well as a door prize.

The Xmas Bash is always a fun day with many Christmas flavoured songs to be heard throughout the afternoon. Talking of flavour, the Restaurant will be open, so no need to rush down a meal before you come, just order a meal when you are ready for it.

Folk Redlands is in its 17th year of operation. Starting in 2005 at the Redlands Indigiscapes Centre, we helped put the centre on the map. Then came the dreaded lurgy and everything changed and we operated for a while from the Redlands Modern Country Music Club and finally we arrived at our current venue The Victoria Point Bowls and Recreation Club.

Mama Juju and the Jam Tarts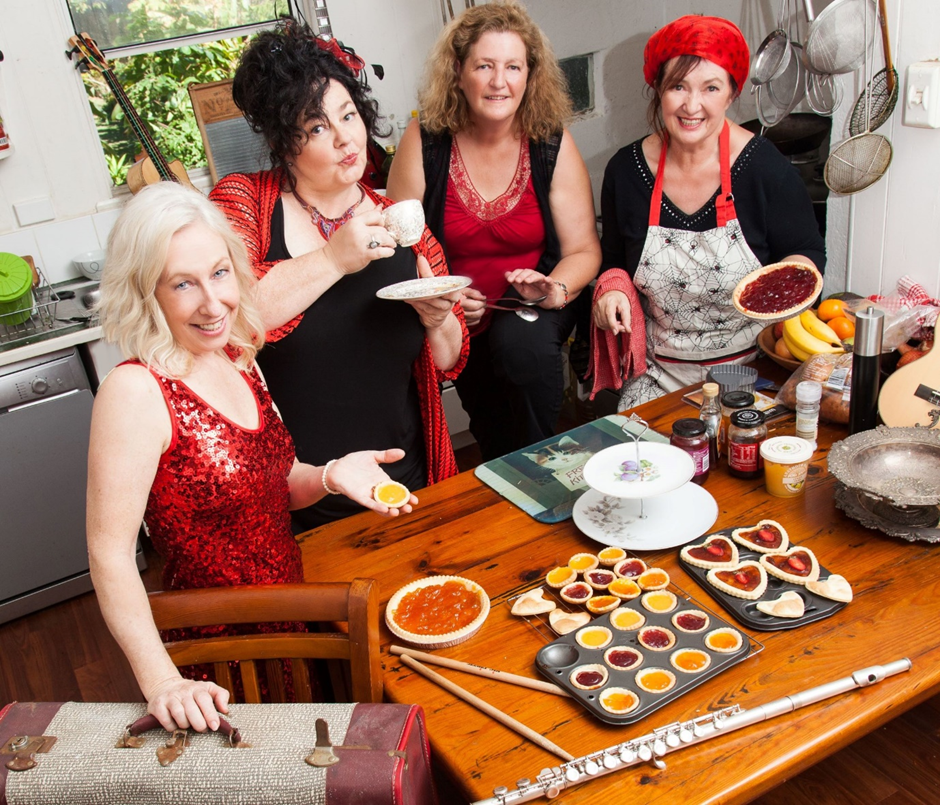 Mama Juju & The Jam Tarts Biography – Mama Juju & The Jam Tarts are four all singing, multi instrumentalist musicians of a certain age and attitude who prefer being on stage entertaining audiences to staying home.

Their music is an eclectic mix of old and new, original and re-envisioned songs with jazz, folk, blues and rock influences.

The focus is on songs which show off their rich vocal harmonies, clever instrumentation and exciting song arrangements. Mama Juju & The Jam Tarts always create a fun, upbeat vibe at any event with their infectious energy, quirky personalities and sometimes a touch of naughtiness.

The band features rockin' drums, bass, guitars, soaring flute, harmonica, ukuleles and whatever other instruments take their fancy. Come and join the party!